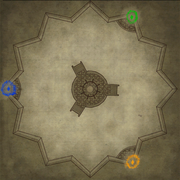 The Arena was the second scenario added to the game and is a pure deathmatch between the teams.
Mechanics
[
]
THROUGH DEATH, VICTORY!
Each kill grants up to 5 points.
The first team to reach 250 points or the highest score within 15 minutes is the winner.
So basically, the first team to reach 50 kills.
Power-ups
[
]
FAVOR FROM CHAOS
The chaos gods have placed favors within the arena.
Be sure your team is granted favor, and not your enemy!
Types of Power-ups
Healing
Invulnerability
Speed
Damage Increase